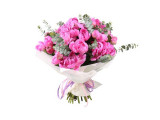 Seasonal flowers
You can thank, congratulate, say about feelings or apologize simply by giving a bouquet of flowers. The classic mono-composition of roses never loses its relevance, but seasonal bouquets look much more interesting and original. Nature took care of the color of the petals, in harmony with the season, and the endurance of plants to the temperature features of the seasons. Sophistication, original aroma and a variety of seasonal compositions will bring a piece of warmth to your relationship.
Secrets of the demand for bouquets of seasonal flowers
Buyers of the SREZ online store in Kyiv in most cases prefer seasonal bouquets. The choice in favor of actual varieties for a certain time of the year is caused by:
freshness - plants directly from the greenhouse go to the store, fresh stems and buds retain their color for a long time, do not fade, please with a charming look;
persistent aroma - a bouquet of seasonal flowers has a lovely delicate smell that lingers in the room for a long time;
savings - the price of seasonal compositions is lower than for non-seasonal or exotic varieties.
The season is also a determining factor for the floral design of a major celebration. If you need a lot of floral elements to decorate the halls, seasonal plants will cost less, and the effect of such decoration will please both customers and guests of the event.
What flowers are included in the seasonal bouquet?
Each flower has its own symbolic meaning. But if you do not resort to sacramental knowledge, but choose floral ensembles according to seasonality, then the following combinations are relevant.
Spring. Delicate tulips, airy lush peonies, quivering freesias, strict daffodils are the main components of spring bouquets. The awakening of nature after a cold winter decorates plants with a charming palette. Dark purple irises, forget-me-nots are in special demand; their bright color dilutes the dullness of early spring.
Summer. All kinds of riot of colors, shapes, shades characterize the summer seasonal bouquet. Bluebells, lavender, sunflowers, eustoma, cornflowers, lilacs, snow-white daisies, and many other varieties will captivate connoisseurs of natural beauty at every turn. You can order a summer composition to add a colorful accent to the image of the bride.
Autumn. The charm of autumn is conveyed through deep yellow, terracotta shades. Bouquets are created from dahlias, gladioli, gerberas, asters, roses and the queen of autumn - chrysanthemums. Plants retain their fresh color for a long time, do not fade, as if they are trying to delay warm days before the onset of cold weather. The addition of red bunches of viburnum or twigs with ripe wild rose gives originality to autumn compositions.
Winter. Live bouquets in the middle of a harsh winter, like an oasis of bright summer among the gray-white palette outside the window. Comfort and warmth are multiplied in the house with the appearance of a flower arrangement of scarlet peony roses, aristocratic orchids, familiar carnations or elegant callas. Calm white, blue, pink shades prevail. Luxurious winter bouquet gives a rich shade of greenery. Sprigs of pine or spruce are added to the composition to enhance the aromatic pleasure.
What time of the year would not be outside the window, seasonal flowers with delivery from SREZ are a charge of joy, good mood for a few days.
What do we offer?
Our online service offers to buy chic seasonal compositions with delivery in Ukraine. We guarantee delicate transportation of flowers with the maintenance of temperature indicators. You can order a floral ensemble online on the store's website for men, women, children and colleagues.
It is better to leave a request in advance, but if the celebration took you by surprise, we will deliver the order as soon as possible. We will quickly make a unique bouquet of single-sorted flowers or a combination of different plants. The cost of delivery and the composition itself will be inexpensive. The creative approach, the sense of beauty of our florists is a guarantee of admiration from the flower surprise of your loved ones.
---
Showing 1 to 25 of 25 (1 Pages)