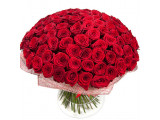 The power of roses is limitless. This has been proven thousands of times already. With their help, you can give joy, get forgiveness from a loved one, create a romantic atmosphere, invite you on a date or just say goodbye. Similar results can be achieved due to the elegance, delicate smell of flowers. If you want to please your beloved and present her with an original bouquet of roses, take a look at the website of the Srez online store.
Bouquets of roses: white and red
The saturation of the color palette of unsurpassed colors makes it possible to create original armfuls for a particular person. But it is also worth considering their language. After all, each color emphasizes something special. Playing with the palette of the bouquet, you can talk about your feelings, about your attitude to a person without further ado.
Bouquets of roses of a snow-white hue will tell you about purity, sincerity of intentions, about charm, the most real and tender feelings. Such a gift is presented, as a rule, to a modest girl who is busy with all the thoughts of a guy.
Roses of the red palette always speak of:
fiery love;
strong feelings;
firm intentions to win the heart.
Thus, a bouquet of white roses is given at the beginning of a romantic relationship, while red ones are more suitable for more serious intentions.
The combination of red and white roses will tell you that they want to say graceful compliments to you, to tell you about their feelings. When your boyfriend surprises you like this, it indicates his strength, but at the same time, his sensitivity towards you. Every girl dreams of this.
It doesn't take much to tell your soul mate how you feel. Let the flowers speak for you. The main thing is to choose the right color and variety. They will do everything else for you. And, it will be remembered for a long time. And the girl, for her part, will be able to understand how dear you are to her.
We give a beautiful bouquet of roses on a special occasion and without it
Do not look for a reason to make your loved one happy. However, it is better to present such a symbolic bouquet on a special day to make it unforgettable.
An ideal occasion for a "talking" bouquet can be the anniversary of your relationship. Such an innocent surprise will allow you to focus on the most important thing: your love for a woman who has not changed over the years. Understanding the importance of your beloved for you depends on how competently you approach the issue of choice.
February 14th is Valentine's Day. This is another holiday that is filled with flowers, congratulations to each other, and a pleasant pastime. The bouquet will be a great addition to a gift or just a gesture of attention.
On March 8, every girl is waiting to be congratulated. Even those who always say otherwise. If you don't know how to approach a girl who seems unavailable, start with flowers. They will help you smooth out all the awkwardness, tune in to a relaxed atmosphere of communication.
Do not forget that roses are a symbol of love. A lot is possible with their help. Moreover, this can be done not only in relation to your beloved, but also mothers, grandmothers, sisters.
If your family loves flowers, be sure to please them. Do it just like that, for no reason. Such a presentation will emphasize how dear they are to you.
Choosing the right flowers
A professional florist always knows how important it is to consider all the qualities of a flower when buying it:
freshness;
grade;
color.
Almost everything depends on how fresh the flower is: feelings, atmosphere, smile of your beloved. You should not buy those that are already a little "tired". Especially if you plan to give it away in a couple of hours. Always prioritize freshness. So the flower will last longer, bringing more pleasure and joy.
As for varieties, there are quite a few of them. And only a few of the men know which one is worth giving to their beloved. It would be wrong to think that a woman will be happy with any flower. Especially if you have serious intentions. Work hard to find out what she likes. And then you can definitely win her heart.
It is also worth taking seriously the issue of choosing a rose shop: only professional ones, such as Srez, can provide you with quality bouquets.
The above qualities are reflected in the cost of flowers. Therefore, we recommend that you always compare these criteria. At the moment, roses are considered a very expensive gift. They are usually given either one or a whole bunch. Experts recommend that you always calculate your desires in advance along with financial capabilities.
It is not enough just to buy chic bouquets of roses and thus please your soul mate. Choose them wisely, and get a doubly positive result.
Where to buy a rose or a whole bouquet?
To order roses, you should choose a reliable seller. Specialists of the Srez online store offer their customers original high-quality bouquets at an affordable price.
When working with us, each client receives:
efficiency;
maximum reliability;
guarantees;
a wide range of.
When buying a bouquet, experts will provide you with recommendations on how to save a bouquet of roses. They have vast experience in this area. They will also help you create an original and sophisticated surprise for your loved one.
Price policy
Having decided to buy a rose, everyone is interested in its value. The average price of a bouquet is 250 UAH. True, there are different options:
S - small;
M – medium;
L - large;
XL - huge.
The final cost of the bouquet depends on the composition and number of flowers, design and use of decorative elements. Contact the specialists of the Srez online store for accurate calculations. Give your loved one an unforgettable gift.
---
Showing 1 to 79 of 79 (1 Pages)